Disaster Salvage Kits
Triptych has developed the DALEK kits to provide a convenient way to have appropriate salvage equipment on hand. When disaster strikes they can be used during safe assessment of an incident and to initiate salvage quickly in line with your Disaster Plan. The modular DALEK is highly manoeuvrable on a specialised trolley and can be easily rolled to a disaster site or be carried in parts if necessary. Reflective signage allows for easy location in the dark and to highlight the DALEK's specific use. The modular system is flexible and can be customised by adding further items or bins. 
See detailed list of bin contents.
Click on DALEK below for pricing.
---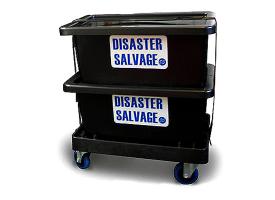 DALEK
Large
Small